COMULIS Training School "Imaging Across Scales" - Report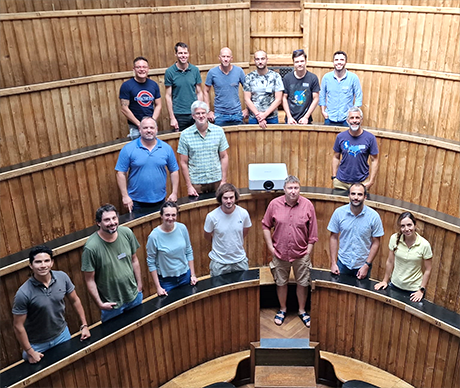 The five-day COMULIS Training School "Imaging Across Scales" took place at the University of Bern on September 4-8, 2023. Organized by Ruslan Hlushchuk, Benoît Zuber (Institute of Anatomy) and Yury Belyaev (Microscopy Imaging Center) this event offered a balanced mix of theory and hands-on experience for 9 students from 4 European countries.
The event started with a keynote talk by Stephan Handschuh of Vet-Med University of Wien on correlative workflow. Days 2 and 3 showcased diverse perspectives with speakers such as Ruslan Hlushchuk on uAngio CT, David Haberthür on uCT analysis, Paolo Ronchi from EMBL Heidelberg on X-ray tomography, and Benoît Zuber on SBF SEM. Industry views were presented by Phil Salmon from Bruker microCT and Emine Korkmaz from ThermoFisher Scientific. Joana Delgado Martins from University of Zurich discussed big data storage and handling.
Participants, divided into four rotating groups, took part in hands-on sessions covering uAngioCT sample preparation, uCT and EM imaging workflows and image processing. These sessions enabled a practical application of the topics discussed in the lectures and enabled participants a possibility of one-to-one communication with imaging experts.
The final day included group presentations and a feedback session, rounding off a week of comprehensive learning and networking, which also included a welcome dinner and a city tour. Overall, the program successfully fused expert talks, practical training, and networking activities.
The training school was supported by the Institute of Anatomy, Microscopy Imaging Center, and COMULISglobe - Chan Zuckerberg Initiative.