Mica microscope workshop at the Institute of Pathology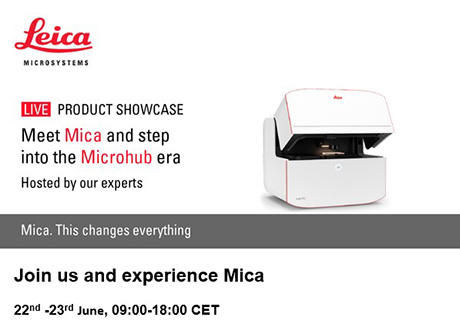 22nd -23rd June, 09:00-18:00 CET
It is our pleasure to invite you to book your personal demonstration of Mica - the world's first Microhub – hosted by the University of Bern at the Institute of Pathology. Discover true simultaneous 4-color widefield, confocal resolution and AI-supported analysis united in a sample-protecting incubator. All with a single push of a button!
Mica is a whole new way to do microscopy. Here's why…
Access for all
Automatic selection and optimization of imaging settings simplifies your experiment set-up and increases reproducibility
No constraints
Visualize 4 colors simultaneously in widefield and then switch to confocal without ever moving your sample. Select the right modality in real time
Radically simplified workflows
Intelligent automation and AI-supported analysis enables greater efficiency and a faster track to publication
Contact us to book a time for your live demonstration and have your questions answered.
Where: University of Bern, Institut für Pathologie, L570, Murtenstrasse 31, 3008 Bern
If you are not available during this time, please write an E-Mail.