Swiss Microscopy Core Facility Day 2022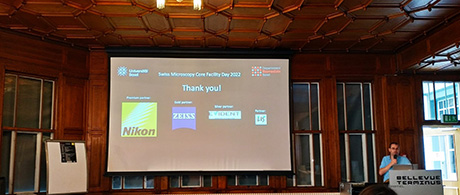 The 10th Swiss Microscopy Core Facility Day took place this year on September 15 - 16, 2022 and was organised by Pascal Lorentz from the Department of Biomedicine at the University of Basel. To celebrate the 10th anniversary, this normally one-day event, was organised as a two-day retreat in Engelberg. About 60 members of Swiss microscopy facilities and representative of different microscopy companies convened for informative presentations and intensive discussion on questions related to various aspects of microscopy faculty operation. The focus of this year's meeting was the well-being of the facility staff.
On the first day, the leading microscopy companies shared their experiences in supporting good working atmosphere among employees. Additionally, Christel Genoud from the University of Lausanne presented the results of a facility survey on the working conditions of microscopy facility employees. On the second day, after Zeiss' presentation of Zeiss on the latest developments in artificial intelligence (AI) software and Evident's brief overview of corporate wellbeing issues, the participants were able to participate in variouse workshops. All workshops were led by professional coaches and gave an insight into modern psychological methods tackling questions of mental health, self-reflection and conflict management.
As usual, the meeting offered many opportunities for networking and exchange of experiences during its social program. Yury Belyaev represented the Microscopy Imaging Center (MIC) at this meeting. Next year the Swiss Core Facility Day will take place at ETH Zurich organised by ScopeM.